Over the past week, tons of writers have talked about Trevor Hoffman narrowly missing enshrinement in the Baseball Hall of Fame in Cooperstown. Each of these articles offered up a different reason as to why he didn't receive enough votes to make it. They asked whether he was electric enough for the Hall of Fame, grouped him into the broad category of reliever, dove into his WAR, talked about his off-the-field professionalism or focused on Hoffman's reaction.
People! Wake up!
When judging a player's greatness, we look at stats, and today we are going to look at the only stat that matters for any closer -- the save.
Trevor Hoffman secured a save 601 times. There is one person who has done it more than Hoffman, Mariano Rivera, who stands at 652 saves. Behind these two sits a long list of hopefuls, but not one of them has even surpassed 500 saves.
Upon first glance, it's perplexing that Hoffman isn't a shoe-in on the second ballot. In fact, at first, I was outraged. But upon further investigation, I understood. Let's look at the staple career stats that a player needs to receive an almost-automatic bid to the Hall of Fame.
For Hitters:
3,000 career hits or 500 career home runs
For Pitchers:
300 career wins
If a player can reach one of those milestones, it's a big deal. You can only accomplish the above stats by placing among the top 10% of all players in baseball for at least 15 years. *
Over the last two decades, the closer has become a pivotal position on every major league club. Everyone acknowledges the importance and magnitude of having a reliable pitcher at the back of the bullpen. A team without a good closer can kiss their chances at a World Series ring good-bye.
However, when it comes to deciding what makes a Hall of Fame closer, there is no precedent. There isn't a long line of closers dating back to the 1800s to which we can compare current closers, but there is an easy way to go ahead and set this bar.
What's the magic number for career saves that puts a closer in the Hall of Fame automatically?
It's 675.
500 Home Runs. 3,000 Hits. 300 Wins. 675 Saves. The fourth staple statistic.
Why? How? Where does 675 come from?
It's simple. If you look at what it takes to achieve the other staple career stats, and break them down to what a player has to do each season, it puts things in perspective.
To reach 500 career home runs, a player must hit 34 home runs for at least 15 seasons. How difficult is it to do this?
On average, over the past 10 seasons, only 8 percent of players hit 34 home runs in a given season. **
3,000 hits? That's 200 hits a season for 15 seasons. Only 2% of the players have done that in a given year. **

And for a starting pitcher and 300 wins? 20 wins a season for 15 seasons. Only 2% of starters reach 20 wins in a given year. ***

Now, how do 675 saves break down over a career?
That's 45 saves a season for 15 seasons. Over the past decade, 9% of closers have achieved 45 saves in a given season. ****

That means the total of 675 hasn't even been reached yet -- but it'll be surpassed soon enough. The era of the closer is still in its infancy and here's a second reason 675 is the bar we need to set for closers.
Since we don't have a significant historical base to draw from, we must compare to the future.
Here is a look at nine current closers that have a shot at passing the mark.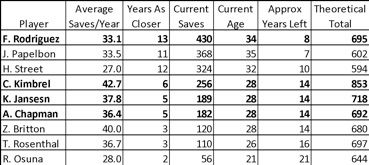 Assuming each of these closers pitch until age 42 (Hoffman pitched to 42 and Rivera 43), four will surpass the 675 mark. (The bottom three players only have three years of data, so their theoretical total is quite uncertain). That means between now and 2040, six more closers could be added to the Hall of Fame -- not a small margin for the select group.
Based on the above, doesn't that mean that Trevor Hoffman and Mariano Rivera aren't up to par to reach the Hall of Fame? Actually, that couldn't be any farther from the truth.
Trevor Hoffman and Mariano Rivera are like Al Spalding.
Al Spalding, of course, was the first pitcher to reach 200 wins but he never reached 300 wins -- the current mark of an exceptional pitcher.
Spalding is a member of the Baseball Hall of Fame. He was a pitcher for the Boston Red Stockings (Red Sox) and Chicago White Stockings (White Sox) from 1871-1877, one of the original men to play the game. He was truly magnificent for his time and ahead of the pack. He set a precedent for greatness before anyone could really know what all-time greatness was.
This is what Trevor Hoffman did, becoming the first player to reach both 500 and 600 saves.
Mariano Rivera then went and set the bar even higher. Both Hoffman and Rivera were magnificent for their time and set a precedent for greatness for all closers to follow. They each deserve a place in Cooperstown, but don't deserve to be first-ballot or maybe even second-ballot entrants. Those spots are reserved for the best of the best Hall of Famers. A higher tier within an elite group.
This is where 675 saves sits, along with 3,000 hits, 500 home runs and 300 wins. The strainers that keep Cooperstown so prestigious and hallowed. It is the milestone that every young closer will dream of achieving and is the reason why Trevor Hoffman's place in the Hall of Fame is on hold for one more year.
* statistics were referenced from seasons 2007-2016 found at https://www.espn.com/mlb/statistics

** includes hitters with a minimum of 500 AB each season

*** includes the 120 starting pitchers with the most innings pitched each season

**** includes the 30 closers with the most innings pitched each season
For more from Sonny, please check out: hugsonnyhey.com.